Solar Park is a Palestinian smart Energy Solution Company that was established in January 2016 and registered by the Ministry of National Economy under the No. 562548693. Its headquarter offices are in Beit Sahour/Palestine. The company vision is to serves all Palestine and be the leading company in alternative energy applications and provide full range of services for implementing and operating alternative energy smart solutions.
Solar Park is an initiative to fulfill a gap in the increasing demand on renewable energy sources and smart solutions that is efficient and less costly. Founders and owners of the Solar Park are coming from a long and successful history in electro-mechanical, design, contracting, construction, and project's implementation and supervision.
Solar Park is the exclusive distributor of Johnson Control-York products in Palestine, and introducing to the Palestinian market their smart energy solution products of the HVAC systems which are characterized as energy saving and reliable. Solar Park Long term strategy is to introduce a full range of services for implementing and operating alternative renewable energy sources that includes wind, solar, biomass, geothermal and hydro.
Toward a cleaner, healthier energy future in Palestine; that is renewable, reliable, affordable, and beneficial for our health, our economy, and our environment, as well as an alternative and smart energy solution and HVAC company in Palestine.
Introduce JCI-York products of AC as an alternative to other existing systems and save electricity consumption by 40-50%.
Import and introduce alternative energy product equipment, like solar, wind, and thermal. It will also promote and market new electrical gadgets that are less consuming of electricity.
Offer and maintain high technical operating and after sales services.
 Apply the best and up to date installation and maintenance techniques.
Technical and professional support to supervisory engineers, contractors, electro-mechanical specialists.
Ongoing workshops, training courses, pamphlets, and hosting international specialists for training and after sale services when needed.
Build and maintain a respectful company image; professionally and financially that will enable the company to be a serious competitor at the local and international markets.
Research and decide upon items brands, services, prices etc. and supply the market with best available products within acceptable and competitive prices.
Our distributors in various Governorates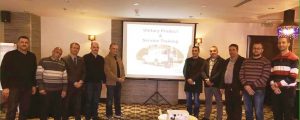 Our working Teams:
To deliver its promise of best services, the company develop a working strategy that covers all working stages; starts from systems design, installation, operating, and after sales services. The teams consists of engineers and technicians. All together we have 9 engineers and 21 technicians operating in all Palestine governorates including Jerusalem.
The company supply all working teams with the best equipment and gadgets to implementing and operate professionally.
Eight cars
TD 02 (fife service checkers)
Tester checkers
Fife Cover welding machines
Air flow testers
Temperature testers
Software system analysis (temperature, pressure, and system operating check)
Comprehensive tools and machines; compressors, grinding disks etc.
Get in Touch with Us
Write your question bellow and we will answer you as soon as possible.